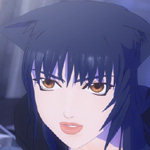 Blue "The Talker"
(Voice:Anna Kunnecke)
3 and half years old, about 22 by cat age. The figure and behave is adult but sometimes shows childish part as her age. She likes talking, especially erotic ones and love affairs. Cheerful and passionate character. She can communicate with ghost and use this ability as her job. Sometimes she receives request from ghost to solve affair and makes them turn in their grave. She has a sad past that her owner was killed and she became human to revenge the killer.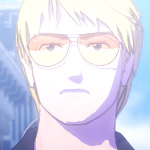 John Doe
(Voice:Dominic Allen)
Dead in about 26 years old. He is a handsome ghost working as Blue's partner. Serious and cool person. Bright and knowledgeable. Sometimes he complains about Blue's disrupting him by the opposite character.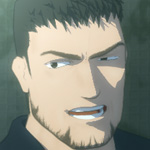 Roberto Calvino "The Mule"
(Voice:Matt Lagan)
He is Italian American and he was Vietnam veteran. In Vietnam, he was supply depo and now he is doing mule with Bill by using his experience.
His gun & driving skill and also judgment & negotiation is super-duper.
He has middle age cool and he loves his family and love to listen Sinatra music.
He know how to escape from hell because of he has variety of experience.
But when he starts to talk about his younger sister, he will lose his cool.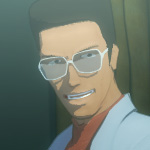 Bill Cosby "The Mule"
(Voice:Herbert Q Kendric)
Age:26
He is African American. He is doing mule with Roberto. Usually he is funny and emotional. He speaks very first and he is quick in snatching.
But he is very weal for crisis and loses his cool when in the face to some trouble.
His fianc?e is Roberto's sister so he cannot be in the doghouse to Roberto.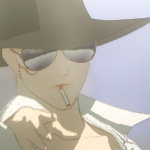 M "The Smoker"
(Voice:Ruthann Morizumi)
She is intelligence agency USSR. We do not know and do not have any information about her. Only we know she is heavy smoker……….
STAFF
Character Design    ROMANoV HiGA
Scenario
Director
CG STAFF
Character Modeling      ROMANoV HiGA
Lighting
Scene Setting
Character Animation
Post Effect
Edit
Background Modeling     Kei Nakabayashi
Vehicle Modeking
Plot Modeling
Volume Effect
Character Modeling     Tact Aoki
Plot Modeling
Vehicle Modeling     Kaisei Kishi


Background Modeling     Fumikazu Sato
                   Kuniomi Ito
                   Hidenori Tanaka

Car Chase Sequence     Tetsuya Watanabe

Backgroung Image Art     KODAMA

Rendering Setting     NAGI

MOTION ACTOR
Action Sequence Action Actor Group KATSUGEKIZA
                        Wataru Koga
                       Junya Iwamoto
                       Yoshio MIyaki
                     Tomonari Nishimura
                   (Support) Naoyasu Achi

Dance Sequence     natsu (CRiB)
Other Sequence     Yasuhiro Yoshiura
                     Tact Aoki

MUSIC
                   Ping pong music
                Rei Kudo (wave master inc)
               Koji Matsuo (wave master inc)

SOUND
Sound Director          Kazuhiro Senda
Sound Mixer Engineer     Toshihiko Harashinai
Sound Effect           Group And I
Recording Studio         Studio 246
Dubbing Studio          i@studio
Special Thanks          RA'sberry Inc
                    Enjin Productions Joko Mizukami
                    ANEC Akira Narisawa
SPECIAL THANKS
               Ryo Katsuta (NTT Resonant Inc)
               Kazumi Akao (NTT Resonant Inc)

Executive Producer     Hiroaki Ikegami (ORGANIC CO., LTD)
Executive Producer     Ben Kato (Ingram Co., Ltd.)
Producer          Masato Saie (Ingram Co., Ltd.)
Producer          Hiroaki Hayashi (Ingram Co., Ltd.)